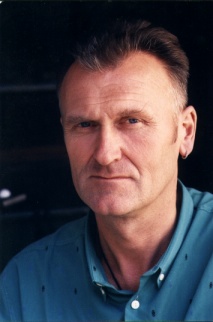 Exhibitions

Articles

Stuart Thornton grew up in the small seaside village of Newbiggin-by-the-Sea in Northumberland, England, where he recently returned. He has lived and worked in Europe for more than fifty years. Within the last decade, Stuart Thornton has become an exceptional and noteworthy artist. Working with nature, Stuart attempts to recreate the essence of some of the natural wonders we observe everyday. I will explain.
About twenty years ago during his habitual and somewhat meditative daily walk through 'The Valentino', a park in Torino, Italy, Stuart remembers being unexpectedly struck by a magnificent kaleidoscope of color. Within the annual blessing of autumn leaves, Stuart found brilliant yellows, greens, reds and gold randomly yet perfectly scattered to form the most stunning of abstract paintings. Inspired, Stuart felt compelled to try and somehow make this moment, this brilliant natural canvas, endure. In his attempt to take home with him some of the beauty he had found in the park, Stuart carefully selected a few of these tangible paints, took them home, dried and pressed them in order to keep and later began to explore the challenge of creating this 'moment preserved'. Later in the process, framing each piece became like creating an altar, a way of honoring reality.
Always received with utter delight and appreciation, his first creations were small and simple holiday gifts for friends. With time, his selections grew. Stuart began to work with plants and flowers of all types. From roses and peonies to small trees, shrubs and grasses, from beautiful floral bouquets to more scientific botanical specimens, Stuart created impressive 'still real-lifes', best described as timeless flashes of nature perfectly and artistically preserved. Initially, Stuart worked in small medium attempting to fit all types of plants and flowers into reasonably sized 'canvases'. He soon found this limiting. Refusing to be intimidated by size, Stuart created some of his most impressive and notable works. These include plants filling giant 'canvases' 3 x 2 metre. As word got out and his skill and talent refined, Stuart found his work hanging in some of the most famous and elegant homes accross Europe and the United States.
A pair of magnificent Gunnera measuring (275cm x 150cm) hang in an exquisitely renovated convent in Corsica, France. As celebrated in the July 2000 issue of 'House & Garden', more Gunnera can be seen embellishing the stucco of Katerine Prices beautiful villa on the island of Capri. In Germany, twenty of his work's including "Anemone Japonica", "Rosa Aleata" and giant sunflowers line the walls of a regal mansion in Munich, owned by Baron Von Flink . In another collection, irises and buttercups rich in blues and yellows are found floating in a sea of blackness. These smaller pieces decorate an enchanting nook in the country home of Oscar and Annetta De La Renta as well as four huge gunnera for their home in Punta Canna. Although Stuart derives great artistic satisfaction in creating each individual piece, he is equally inspired to collaborate with his patrons as well, for specific projects. Stuart works closely with interior designers such as Signor Forquet, Arch. Pejrone of Italy and Mrs. Susan Gutfriend of New York. Stuart has worked also with: with one of her clients, Mrs. Paola Cussie, in Paris, where he decorated her dining room with 70 pieces of his works; with Gae Aulenti in Marella Agnelli's home in Marrakesh; with the Begum Salima Aga Khan, who literally wall papered her home, with 400 pieces; with Maddison Cox for Mr. & Mrs. Black of New York; with Frank de Biasi Interiors in New York and Paris; Reeds and Waldo Works of London.
Like most artists, Stuart has a 'day job' yet is continually working on his art. Nearly every free moment he is either out for seasonal gathering, pressing and/or treating his 'paints' or in his studio reshaping and interpreting. Consequently much of the process is entirely reliant on conditions of nature. With yearly scavenging, drying, pressing and preparing, Stuart must constantly wrangle with the elements and with time. Like a farmer with his crop, Stuart prays for weather to nurture the perfect composition. Too much rain or not enough, a sudden hail shower can easily shape the course of an artistic season. Like a photographer trying to capture the majesty, simplicity and honesty of nature's wonders, Stuart spends immeasurable hours arranging each collage. Each and every piece unique. His goal, to somehow recreate the beauty of the environment that we so often take for granted. Thus, we might stop and see the roses, so to speak, in our homes, at our leisure.
Stuart usually mounts his works on cardboard and paper and for the gunnera's ultralight boards. Most recently, Stuart is exploring the blend of current technologies with the natural simplicity of his work with digital imagery and transfer systems.

Elizabeth Van Vleck
2000-2014
N.B.:
Do the colors fade? Yes, I can guarantee it. Might I have trouble with insect's, possibly.
Strong sunlight, to much dry heat and to much humidity can damage these works.
The immages of these works are the property of the artist and the Mc.Graw Printing House N.Y